Professor Steven Ley's laboratories are located in the Department of Chemistry at the University of Cambridge. Their research specialises in flow chemistry and organic synthesis. They are renowned for collaborations with academic and industrial partners. Précising their work, Steve says
"Complex synthesis remains a challenging occupation requiring an exceptional level of experimental skill, extensive knowledge of both mechanistic and molecular reactivity, and a bold, inventive, and creative spirit. It is the combination of these qualities that transforms the synthesis process from one of simple logistics to an art form."
We are holding a workshop during Euromar – Advances in benchtop NMR .
You can register for the workshop by clicking here (spaces are limited).
The workshop will be held in Kopernik Room on July 4th, and will run twice, from 13.30-14.30  and again from 14.30-15.30. Limited to 30 participants.
Benchtop NMR systems have become popular analytical lab instruments in the last years. With the recent launch of the Spinsolve Ultra the magnetic field homogeneity has been improved to match a lines shape that is comparable to superconducting magnets, while the brand new Spinsolve 80 pushes the limits in chemical shift spreading and sensitivity for a benchtop system.
During the workshop an overview of applications that can be addressed with benchtop NMR systems will be given and practical demonstrations will be done on a live system.
Spaces are limited so please register now if you are interested in attending by clicking here.
We are really excited to introduce the newest Spinsolve benchtop NMR – the 80MHz Spinsolve 80. Spinsolve 80 combines industry leading resolution (0.5 Hz/20 Hz) and the highest sensitivity and chemical shift dispersion with an unparalleled 80 MHz magnet at its core. All Spinsolve benchtop NMR systems include easy to use software, convenient size and weight, and superior stability to give you quick and convenient NMR spectroscopy, wherever you want it.
To download a brochure and learn more please click on the image below
If you have any other questions about Spinsolve 80, or any of our products, please contact us.
Magritek is really excited to be at the 20th ISMAR meeting being held in Québec City on July 23-28, 2017, jointly with the Rocky Mountain Conference on EPR.
We are very proud to sponsor the Paul Callaghan Lecture which will be presented by Dr. Jeffrey A. Reimer, UC Berkeley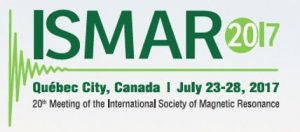 Our development team is constantly working on improving performance of the Spinsolve. And as a result the quality of NMR spectra you can obtain with Spinsolve has continued to improve. To show this, we have been updating the NMR spectral examples that are available on this website, and also updating Spinsolve 60 MHz data. So please go to Example NMR Spectra and browse through the page. Hope you find these examples useful!
Silicon is one of the most widespread elements in the natural world and, as such, this makes it a very interesting and useful element to study using NMR. Over the past few decades, a wide range of silicon-containing compounds have been investigated using both solid- and liquid-state NMR techniques. For example, siloxane polymers, which are extensively used in biomedical and cosmetic applications, have been extensively studied by NMR to understand their structure and individual building blocks. Similarly, the structure of silicates, zeolites and other materials have been studied by silicon NMR. Silicon NMR has been shown to be a powerful tool for the determination of active end groups, cross-linking moieties and polymer sequencing.
Dr Peter Keizers is a scientist in the Centre for Health Protection at RIVM, the Dutch National Institute for Public Health and the Environment based in Bilthoven. As a chemist, he investigates (illegal) drugs, medical devices and other medicinal products. His group studies the composition of these products and specifically look for active pharmaceutical ingredients, preferably in a quantitative way.
Our next benchtop NMR free webinar is on Tuesday, June 27th, from 12:00pm – 12:45pm PDT. The topic is "Practical use of 13C Benchtop NMR Spectroscopy in an Undergraduate Laboratory" and will be presented by Dr Paul Bowyer.
To register please click on the red button in the image below

Time Zones:
East Coast USA 3 pm Tues June 27th
Germany 9 pm Tues June 27th
New Zealand 7 am Weds June 28th
Thrilled to announce the launch of the NEW Spinsolve ULTRA Benchtop NMR system. The Spinsolve ULTRA has the field homogeneity of a superconducting NMR magnet (0.2 Hz / 6 Hz / 12 Hz) in a compact and robust benchtop unit.
The Spinsolve ULTRA brochure can be downloaded here.
When combined with solvent suppression it allows users to resolve compounds dissolved at sub-millimolar concentrations in protonated solvents, such as water. The example below shows how effective the suppression of the very large water signal is. This enables metabolites at concentrations down to a few hundred micromolars to be detected in an 8 minute measurement.
Please contact us to discuss if Spinsolve ULTRA is useful for your application.
Magritek is really excited to be at 20th European Symposium on Organic Chemistry 2017 in Cologne, Germany from 2nd – 6th July 2017.  You can find us at Booth 12 and we really look forward to meeting you. Our applications and support team will have a live, working Spinsolve Benchtop NMR and will also be there to answer all your benchtop NMR spectroscopy questions.
Cholesterol is an essential molecule found in all animals and is a structural component of animal cell membranes. It is the reason why animal cells are flexible and animals can move, unlike plant cells which have rigid cell walls. Cholesterol is a sterol and the cells in your body synthesize about 1 gram every day.
With recent advances in the performance of benchtop NMR, such as the 80 MHz Spinsolve 80, it is interesting to see the 13C NMR spectra from molecules such as Cholesterol.  With a molecular weight of 386 g/mol and 27 carbon atoms it is a larger molecule than is typical measured on a Carbon-13 capable benchtop NMR spectrometer. Because there are more peaks to resolve, both the sensitivity and resolution of the instrument are tested with this measurement.
The 1D proton-decoupled 13C NMR spectrum of a 400 mM sample of Cholesterol measured by a Spinsolve 80 is shown in the figure below. Because 13C has a lower gyromagnetic ratio than protons, the 13C Larmor frequency is 20 MHz. The region between 20 ppm and 45 ppm has been expanded to show how the carbon peaks are resolved.
One of the advanced features of the Spinsolve 80 is the ability to run a Multiplicity Edited HSQC, also known as HSQC-ME.  This powerful 2D NMR sequence has proton in the horizontal (f2) axis and carbon in the vertical (f1) axis.  The peaks appear where a proton is connected to a carbon atom.  Additional information about "multiplicity" is given by the sign of the peak, just like in a DEPT experiment.  Positive peaks (red) are either CH or CH3, while negative peaks (blue) are from CH2. This additional information really helps with correct peak assignment.
The example below is from an HSQC-ME experiment run on a sample of Quinine and shows all the peaks uniquely resolved and assigned.
Magritek is really excited to be participating in the exhibition at the RACI 2017 Centenary Congress on July 23-28, 2017 in Melbourne, Australia.
You can find us at Booth G58 and we really look forward to meeting you. Our application and support team will have a Spinsolve Benchtop NMR and will be happy to answer your benchtop NMR spectroscopy questions.
The Spinsolve is not only a perfect tool to teach NMR to Chemistry students, but its performance enables it to be used for serious research. This is evidenced in the published papers from our users. Over the last few months there has been a number of new publications featuring Spinsolve. In this post we will highlight a few of them. Click here for a full comprehensive list of publications.
Dr Leena Kaisalo heads up the Organic Chemistry student laboratory at the University of Helsinki. While the Laboratory's research focuses on organic synthesis, Dr Kaisalo's role is to lead the teaching of bachelor and masters students in various analytical techniques including NMR.